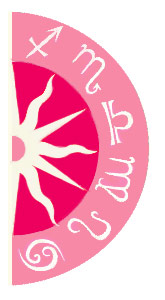 The message of this week's new Moon in Virgo is simplicity itself - Simplify!
A new Moon, when the Sun and the Moon meet in the sky, is the beginning of a cycle. We plant the seeds that bear fruit at the full Moon, and then harvest and replant during the next new Moon. Each "moon-th" brings with it the opporunity for new growth and change.
A new Moon in Virgo loves all things that engender clarity, simplicity and efficiency. Unlike other Moon signs, a Virgo new Moon is less about planting and growing and more about re-organizing, streamlining and pruning. It's a good time to take stock of what you have, then devise ways to make it work better for you.
Virgo savors continuous quality improvement. Pick one thing on your list and do that to completion. Then start on the next item. Step by step, you will move forward. Learn to enjoy the process itself and you've attained Virgo enlightenment.
Depending on your zodiac sign, the Virgo new Moon will cast a spotlight on a particular area of your life for the next month. Here's a clue for what get-organized new-Moon project you might want to tackle:
Aries – Your daily routines. Things that promote your health. Diet. Exercise
Taurus – How you have fun. Your romantic life. Your children's needs.
Gemini – Your home.
Cancer – Your computer, communications or files
Leo – Your financial portfolio. Your bookkeeping. Your home inventory.
Virgo – You! Your wardrobe. Your hairstyle.
Libra – Your spiritual practice.
Scorpio – Your address book. Your social commitments.
Sagittarius – Your workplace. Your career plans.
Capricorn – Your vacation plans. Your passport. Your library.
Aquarius – Your estate plans. Your insurance. Your taxes.
Pisces – Your significant other. Your partnerships.
As an extra bonus clue, the Sept. 15 new Moon falls in the 24th degree of Virgo, which is the Sabian symbol "Mary and her Little Lamb." Astrologer Dane Rudyar wrote that this degree exemplifies "the need to keep a vibrant and pure simplicity at the core of one's being as one meets the many tests of existence."
Simplify, and celebrate!
Astrologer and change-catalyst Donna Woodwell lives in Austin, Texas. You can also catch up with her at fourmoonsastrology.com, on Facebook at facebook.com/fourmoonsastrology on or Twitter @lunalicious.