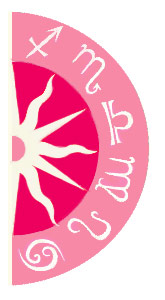 Relationships are never easy 100% of the time. Whenever you decide to merge your life with someone else, there will always be some ups and downs. Unfortunately, the down could have easily hit Pisceans this past Tuesday with the Sun being at odds with erratic Uranus. Since the sun represents a male energy, and because it was in Virgo, Pisces house of relationships, it's safe to say that lady Pisceans may have had some trouble come their way from a male figure; father, business partner, or beau. Now, I have Pisces rising, so I should've been aware, however, my blow came from a source that really shocked me. It makes sense, however, since Uranus is the planet of shock! I was on the phone with a male business partner and a miscommunication occured. The next thing I knew, he was snapping at me for no apparent reason. I blame the fact that he was tired from traveling so much and was just irritated to have to figure more logistics out after a long day. It was easy for me to dismiss it seeing I wasn't very emotionally involved in that situation. For others, though, it may have not been so easy to dismiss a blow from a family member or lover, for instance. Pisceans are very sensitive people. We often wear our heart on our sleeves. An arguement could easily crush our spirit, so it's essential for us to make peace. We'd much rather make love and not war. If you've experienced some turbulence from your loved one, let it blow over, but keep your eye on it. If the issue keeps popping back up, take it as a sign. This person could be a weak link in your life that you do not need to be dealing with. If it only happens on rare occassions where he's irritable from having a long day, that's one thing, and a good talk could be the solution to sorting that out. However, frequent blow ups could be a sign that this person is weak and insecure, and you'll have to ask yourself the hard truth. Do you want to deal with an insecure person the rest of your life?
Can't get enough astrology?
Like us on Facebook!