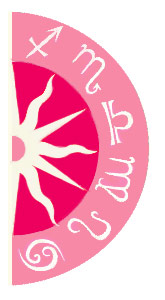 Ladies and gentlemen: it's time to fight back. Pluto (the planet voted most likely to blow things up) is in the final week of its retrograde through the early degrees of Capricorn, and undoubtedly you've felt that pressure in your own life since April, when it first turned backwards. Have a look at where the Cancer-Capricorn axis lies in your own birth chart, and you'll be able to see for yourself the changes that have happened. And so often, a long Pluto transit leaves us looking back at it blinking in disbelief and scratching our heads in wonderment and/or terror at everything that it has wrought. Many of you will have dramatic upheavals in your love life (for better or worse) during this time. I know * I* have. And even as an astrologer -- someone who keeps an eye on these things for a living -- the results can be profound and totally unexpected. You may have had brilliant results without trying... or terrible results despite your best efforts. One way or another, Pluto has been pushing you out of your comfort zone. So: now that Pluto only has another week of inwardness and backwards motion, can we expect the craziness to stop? Of course not. If life were that simple, you wouldn't need an astrologer. But rather than simply sit back and let Pluto happen to you... all fifteen years or so that it still has to pass through Capricorn... I want to help you actually take charge of the situation. Over the next couple of weeks, I'm going to be looking at specific examples of what Pluto can and does do to love lives, and more specifically, we'll have a look at how that energy is affecting you and your love life... whether you are just starting to consider dating again, or you are in a committed relationship, or anything in between. If you don't know the specifics of your birth chart, now is the time to find out. There are lots of places on the Internet where you can input your birth data and find out the sign and house placements of your birth chart. And you can start right here with your Venus sign. Of course it's all a little more complex than just where your Venus is, but it's a good start. Now: let's see where we can take this new love life of yours, now that it's going to have a little Plutonium in its tank...
Can't get enough astrology?
Like us on Facebook!