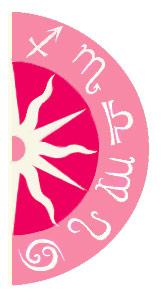 George Napolitano/FilmMagic
Hollywood's newest celebrity couple is Rachel McAdams and Michael Sheen. While Rachel is a super-secretive Scorpio about her love life, especially after her relationship with The Notebook costar Ryan Gosling, this time around she isn't a hiding a thing. Does this mean her relationship with the British actor is a keeper?

With Venus and Mars currently in Scorpio, this makes it a hot time for all Scorpios in love. Plus, with Rachel also born with Venus in Scorpio, this time is even more relevant for her. As for Michael, he's an Aquarius, which isn't the most compatible sign for Scorpio as they square each other (which is a tense aspect). However, he does have a Mars in Scorpio and this will up the ante for the passion they create together -- but chances are that despite their heavy Venus and Mars Scorpio bond, the fact that their Sun and their Moon (Rachel has a Gemini Moon and Michael a Virgo Moon) squaring, the longevity isn't so hot -- as it could burn out as fast and intensely as it heated up.
Can't get enough astrology?
Like us on Facebook!