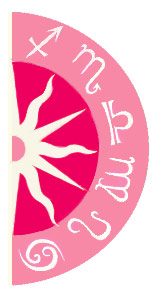 The impulses of nature are what give authenticity to life; not following the rules that come from a supernatural authority and that is the sense of the grail...The grail becomes symbolic of an authentic life which has lived in terms of its own volition, in terms of its own impulse system that carries it between the pairs of opposites of good and evil, light and dark. Volfrom starts his epic with a short poem saying every act has both good and evil results. Every act in life yields pairs of opposites in its results. The best we can do is lean toward the light That is to say- intend the light. And what the light is is that of the harmonious relationships that come from compassion with suffering, understanding the other person. This is what the grail is about.
- Joseph Campbell & The Holy Grail / The Power of Myth
Share a free sample Sexual Soul Mates Reading. This hot and steamy reading for two will help you uncover your deepest desires and enhance your connection as a couple.
As Pluto moves into Capricorn and reveals the poison of faulty power structures, artists are asked to re-imagine what power means in our individual lives and the palette underlying ambition and the quest to reach the top of the mountain. The impetus to discover our personal peaks may, in part, come from an impetus outside us and be in response to the uncertainty of our financial weather. Everything sinister about power, every misstep we have made - or our nation has made - will be cut like a gangrenous limb from our model of survival and we will be asked to build something new from whatever part of the mountain we climbed honestly. Where have we disobeyed our principles and bloated our self-worth to get ahead will confront us as this most treacherous and healing of planets passes through the the sign of the wise, but sometimes misdirected, sign of the old crone.
We are asked to re-learn self-reliance and answer for what greater truths have been denied or hidden under the calcification of outdated structures and faulty dependency. We will learn that power plays are only that - plays - and what is not supporting our true empowerment will be torn from us with the sentimentality of a wrecking ball through a historic building. We are entering the Age of Aquarius, after all, and we asked to reconcile where we are now with the panorama of the Water-Bearers ideals on the horizon. Starting with you and me, we are asked not to play by rigid rules of class and rank but to embrace each other as equals and extend our network to include, not to exclude, intimidate, badger, impress or estrange by seeking solace in the superficial. We will be given the option to excise unhealthy Capricorn and amidst the brush, re-grow her wise and fair principles. Myopic agendas will not persevere during this transit though self-discipline for the greater whole will. Re-integrating the core Capricornian values of industriousness and frugality (borrowing from the late, great Capricorn Ben Franklin here) into our artistic disciplines is the price of the toll during a transit that promises to clean the rust from our instruments and encourage us to play as the sinking hull of our enslaving structures fall to the bottom of a waiting ocean. Let's intend the light of Capricorn and dance, sing, cook, paint....be....as we face with humility where we may have forgotten to follow the path of our own wisdom.
Find your path to fulfillment with a Free Psychic Reading. Call 1-800-749-5790 right now!