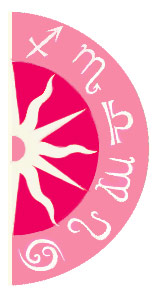 Twilight fans can rejoice, as Kristen and Rob are together again! With the press saying they had a dramatic make-up, could this just be a ploy? After all, the last Twilight (Part 2 of Breaking Dawn) is due out on November 16 and would do much better with the support of fans yearning for the true love story between Edward and Bella.

Strange elements make up this couple, which doesn't bode well for an intimate relationship. With Rob a Taurus, Cancer Rising -- and Kristen an Aries, Cancer Rising, they do make good friends. Plus, they both have Water and Air-sign Moons and Venus', which shows nurturing and bonding. However, when it comes to deeper intimacy, they don't sync up easily. As it goes, Kristen has her Mars in experimental Aquarius, while Rob's is in steady Capricorn -- this can start out fun, as in both exploring new territory, but over time their intensity is expressed in different ways. Kristen is looking to reinvent herself, while Rob is out to perfect himself. Plus, with trouble-making Saturn heading into Rob's solar relationship house and Kristen's natal romance house post-Twilight release, it will be interesting to see how committed they truly want to be and how much it's worth to them.
Can't get enough astrology?
Like us on Facebook!