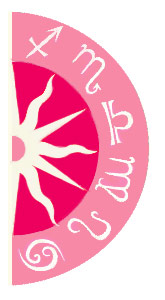 Amid the news of Blake Lively and Ryan Reynolds getting married this weekend, pictures of Scarlett Johansson and Jared Leto holding hands at the DNC were also in circulation. Obviously this could be a coincidence but could it also be revenge? What do the stars say?
Share a free sample 2014 Vedic Moon Sign Forecast.Take a look at how the transit of planets will affect your relationship and finances in 2014!
Scarlett may be an easygoing double
Sagittarius
, but has a lot of
Scorpio
in her chart --
Moon
,
Saturn
,
Pluto.
It means Scarlett is a girl that appreciates a bit of revenge and likely knowing her ex was in the process of a new marriage, wasn't shy to hold hands with her friend Jared to steal a bit of the spotlight. However, her reps say she is still with her longtime boyfriend, ad exec Nate Taylor.
Jupiter
(luck) is touring her commitment house and can mean taking things to the next step. Her one bump in the road is her Saturn Return starting up in early October, which will mean a complete testing of her inner strength and really dealing with her past.
Got Questions? Need Answers? Get insight into what lies ahead with a Psychic Reading. Call 1-800-749-5790 right now!