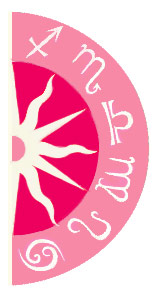 Valentine's Day 2014 is sizzling in more ways than one. The powerful convergence of New Year's Day and the new Moon in Capricorn was our first cosmic gift this year. Now we're getting another awesome confluence of the modern and astrological calendar, and it's a decidedly sexy one. Friday, February 14 is also the full Moon in Leo, which happens to be one of the most profoundly sexy, flirtatious and love-hungry lunations of all.

This brings up something we don't often think about as we negotiate our love and sex lives: What's really at the root of an ever-fluctuating libido? Of course, work stress, health, housework, kids and everything from menstrual cycles to sleep patterns affect one's sex life. You have to account for all of these influences. But the Moon plays a mighty role in whether or not you want it, so it's worth getting to know La Luna's relationship to your life between the sheets.

The week leading up to the full Moon tends to be a time of heightened energy, excitement and craving for connection. This is one of the best moments of the lunar cycle to schedule date nights with your partner, or to go out with your friends, if you're single.

Share a free sample Career Strengths Reading. What are your strongest talents at work? The answers await with this unique reading!

You're hungrier for love now, and tend to be more open to experimentation. And yes, it's also the time that we feel a bit loony, but that's also an excuse to get busy because the release of oxytocin can help calm you (both) down. If you've recently had a fight and then great makeup sex, it was probably on or near a full Moon.

The New Moon (and the week beforehand) is the time when we tend to go inward psychologically. You may feel less inclined to connect sexually with a new lover or your regular partner, and that's okay. You're in a more meditative phase now, so it's more than okay if you feel like focusing on yourself -- instead of someone else's pleasure.

Note that the luscious, ludicrously sexy full Moon in Leo/Valentine's Day event might also bring some heightened drama. If you have any conflicts brewing with your lover, especially those involving ego and jealousy, try to work them out before the big day so you can focus on the good stuff -- all weekend long!
Need to know the answers? Put your mind at ease. Get a Free Psychic Love Reading today. Call 1-800-749-5790 right now!