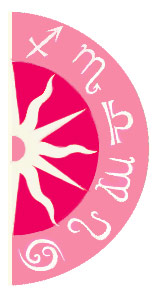 Be Fair!
Last week, the
Sun
opposed
Jupiter
and
Uranus
and squared
Pluto
. This week, the Sun conjuncts
Saturn
in fair-minded
Libra
on September 30, reminding you to act fairly and do the right thing. Then when communicative
Mercury
opposes Jupiter on October 1 and Uranus on the following day, you receive information that may change your plans. We end the week with the relationship planets,
Venus
and
Mars
, joining each other in a conjunction in passionate
Scorpio
.
September 30: The Sun conjuncts Saturn
Any conjunction marks a new beginning. This one provides an important reality check and reminds you to step into your authority. It shows you the tools you have to work with, based on previous building. Astrologers have a saying with this one: You get what you deserve. If you've been working hard, you get the payoff. If you haven't, you get a great sense of what you need to do next. Align yourself with those who have clout and the ability to help you. With all the recent aspects to the Sun, you are challenged to meet your responsibilities within a changing environment. You should be used to this by now!
October 1: Mercury opposes Jupiter
Share a free sample Sexual Soul Mates Reading.This hot and steamy reading for two will help you uncover your deepest desires and enhance your connection as a couple.
October 2: Mercury opposes Uranus
Mercury in Virgo shows a penchant for concise communication and thoughtful planning. But in this opposition to the Jupiter-Uranus conjunction, you will need to prepare for a surprise wild card thrown into the mix! The more comfortable you are with changing your course when this new information becomes available, the better off you will be. Leave plenty of room in your agreements to scribble outside the lines.
October 3: Mercury enters Libra
Ordinarily this communicative planet transiting from analytical Virgo to social Libra would give your mind a needed rest. But if you have been following The Stars This Week, you already know that the overall environment these days is not very calm! Still, with Mercury in diplomatic Libra, the emphasis is on fairness and justice, making this a wonderful time to smooth over any recent conflicts. Extend the olive branch when you can and pay it forward when possible, extending kindness to others. With so much planetary intensity this month, we'll all appreciate those individuals who can rise above the squabbles!
October 3: Venus conjuncts Mars
Venus is moving slowly and will turn retrograde in a few days, on October 8. But before she does, she meets up with Mars in a conjunction in passionate Scorpio. These are the planets of attraction (Venus) and desire (Mars). In the midst of all of the recent changes and challenges, these two need a moment to share their hearts, bodies and souls. And so do you! Reach out to someone you love and spend quality time.
Got Questions? Need Answers? Get insight into what lies ahead with a Psychic Reading. Call 1-800-749-5790 right now!