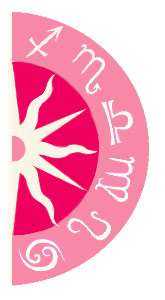 Getty Images
Tempers might flare at work this week as a driven
Sun
-
Mars
pairing demands progress. While enthusiasm for new ventures peaks, frustrations about delays can boil over.
The Sun and Mars are both planets of leadership, so taking charge is a key professional theme now. Difficulties are likely to arise when everyone wants to be the boss and no one wants to do the actual work.
On the flipside, the Sun and Mars meet in
Aries
, a sign that loves to cross tasks off the to-do list. If you can channel some of this spirited energy into action you'll be amazed at how much you can get done now. The cosmic speed is set to accelerate and you don't want to be left behind! Impress your boss with results.
Share a free sample 2014 Day-By-Day Forecast.Look forward to 2014 with this forecast as your road map. Get a free one-week preview now!
The downside of the Sun-Mars dynamic is that together they are combustible, so colleagues or your boss may overreact or lash out impulsively. Impatience peaks as everybody feels as though things should be going faster. If necessary, allow cool-down time before revisiting a hot topic.
Your cosmic key to success this week is to keep your eye on the ultimate prize, but create a point-by-point action plan to help you get there. Completing one or two key tasks every day ensures progress by the end of the week.
The bottom line? Take charge of where your career is going. If things aren't fulfilling, the Sun-Mars link encourages a fresh start and new goals.
Got Questions? Need Answers? Get insight into what lies ahead with a Psychic Reading. Call 1-800-749-5790 right now!