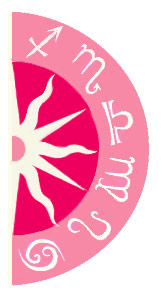 "Love works in miracles every day -- such as weakening the strong and stretching the weak; making fools of the wise, and wise men of fools; favoring the passions, destroying reason. And, in a word, turning everything topsy-turvy."
--Marguerite De Valois
The Sun is now in Scorpio, and Venus is in Libra -- making for an intensely sweet craving for deep connection and intimacy with the ones you love. This is also an incredibly creative pairing. Libra rules our dating, mating and relating instincts, while Scorpio rules our procreative instincts. You get the gist of what happens when these two energies combine. Make sure you have protection if baby-making is not on your agenda!

Love is sweet and relations are filled with passion under this influence. The Scorpio-Mars energy still trumps the Venus energy at the moment. However, if the sexier side of Mars is emphasized instead of the potentially combative energy of Mars, it's possible to have the cake and eat it too in romantic relationships. Use the intensity of Scorpio to reach deep emotional authenticity instead of the more destructive potential of jealousy, possessiveness or power struggles.

Venus in Libra helps us to access the proper balance of give-and-take in our relationships, and favors working together to bring more sweetness and harmony. In fact, Venus in Libra prefers all matters of coupling, and we may even feel some of our co-dependent instincts kick in as we dread going solo under this relationship-oriented phase.

Dramatic beauty is favored under this planetary combination. Bold and seductive aesthetics rule during the Libra-Scorpio dance. Libra brings the lovely, and Scorpio brings the sexy -- making for a formidably dangerous combination. Perhaps the most alluring thing of all during this influence is the seduction of sweetness. Putting the needs of your partner first and finding the beauty in compromise and working together can be the biggest turn-on imaginable.
Can't get enough astrology?
Like us on Facebook!