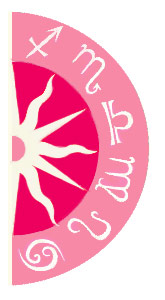 Getty Images
This year's Aries new Moon falls on April 10, marking the peak of the astrological new year as the ambitious Ram empowers the fresh new lunar orb. Three other planets also energize Aries -- Uranus, Venus and Mars -- creating a stellium of five planets (including the Sun and Moon) in this independent sign. This is a very potent period for setting intentions.

A strong, me-first energy helps us reclaim time for ourselves amidst the madness of home and family life. Be clear with kids or relatives about your precious time, and be sure to set boundaries. Putting yourself first is the ultimate way of taking care of your loved ones now.

We're likely to get caught juggling personal, professional and domestic commitments this week. Remember this: you're allowed to call time out! Like a child realizing they don't want to play anymore, this week's astrological aspects help you recognize what's not working and make necessary changes to support your happiness.

By making yourself less available to others now, you're naturally providing opportunities for loved ones to do more for themselves. This is a true win-win situation -- and it all starts with you!
Can't get enough astrology?
Like us on Facebook!