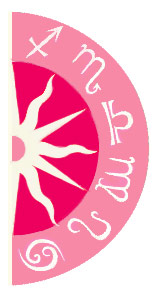 Ben Stansall/AFP
Photographers spotted Brad Pitt in a Venice, Italy, playground last weekend having fun with several of his kids. While sightings of the Jolie-Pitt clan is always big news, it's Brad's billy-goat beard that is actually getting fans truly riled up. Many in the blogosphere are being driven to distraction by Brad's grizzly look. And everyone's asking, "When will he shave?"

Well, according to the stars, at the earliest, double Sagittarius Brad might not be into an image makeover until May 20, when Venus (planet of beauty) slips into his house of mystery, which can cause a change of appearance. However, while Mars is touring his house of recreation until June 7, Brad is probably going to enjoy "letting it all hang out" until later that month. Yes, sorry to say, it might not be until the end of June that we'll see sexy, clean-shaven Brad again!
Can't get enough astrology?
Like us on Facebook!