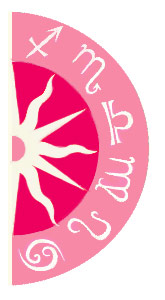 Getty Images
Venus is the planet of beauty, art and the erotic. As the original law of attraction, she magnetizes what she wants. Uranus is the planet that works to liberate us from repressive traditions by reinventing new systems. This planet has an out-of-the-blue kind of style, transforming things in a flash. The flowing energy of the Venus-Uranus trine on July 7 helps the energies of both planets merge harmoniously, and acts as a conduit of creative genius, encouraging us to experience more freedom in our personal lives. Sounds fun, no?
Share a free sampleYear of the Wood Horse Forecast.The Year of the Horse is a time of positivity and luck! Get a preview of what the year holds for you!
This kind of astrology makes us want to reinvent our love lives, get a makeover and buy a lottery ticket. This is an especially potent transit for Aries and Leo, but we are all going to benefit from this quick but exciting energy.

We could very well find ourselves dating new and interesting people, or trying something new in our existing relationships (in or out of the bedroom). Uranus has a reputation for marching to the beat of its own drum, and a propensity for the bizarre. Needless to say, this is a week ripe for reinvention, urging us all to -- at the very least -- let our hair down!
Got Questions? Need Answers? Get insight into what lies ahead with a Psychic Reading. Call 1-800-749-5790 right now!