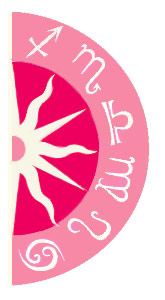 Lovely Venus's move into sensitive Pisces last weekend (through April 21) is encouraging us to spread peace, harmony and kindness everywhere we go. Are you good at reaching out to your loved ones during this time and letting you know you're there for them? That depends on what sign you are …

The Water signs (Cancer, Scorpio, Pisces) are the healing signs, able to induce more calm around them than they feel within themselves. They do get overly emotional about life but have a knack for making others feel better. Venus in watery Pisces adds to their charm and persuasive powers.

The Earth signs (Taurus, Virgo, Capricorn) always give off a solid, secure feeling and are usually able to provide practical solutions to tricky situations -- or at least find distractions when faced with unsolvable problems. Venus in Pisces will add sweetness to their words and a friendly spirit to their approach. They'll be smoothing rough edges in a very effective style.

The Air signs (Gemini, Libra, Aquarius) are good with words, but a bit less so with feelings. They like to stand back and analyze life but that can become irksome when what their loved ones need is sympathy. Venus in Pisces will soften them up in the workplace, but not so much with their personal lives.

The Fire signs (Aries, Leo, Sagittarius) are great morale boosters but not always good at being empathetic. Venus in Pisces will make them more thoughtful and softer around the edges -- especially Sagittarius.
Can't get enough astrology?
Like us on Facebook!