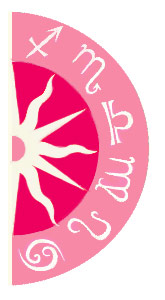 Oscar night is coming and there may be many dark horses in the running. Although Daniel Day Lewis was the favorite early on, Bradley Cooper is now getting lots of attention for his performance in Silver Linings Playbook, and critics are also saying that Hugh Jackman is the a strongest contender. So, what are Hugh's chances?

Share a free sample 2014 Romantic Forecast. Get a free preview of your one-week Romantic Forecast! Make the most out of your love life!

Hugh is a Libra, Aquarius Rising and a Gemini Moon -- a triple threat of Air energy, the stars giving him auspicious energy during the campaigning part of the Academy Awards. However, on the night of the Oscars, a majority of planets will in Pisces, and Earth and Water will be the predominant elements in the sky. The biggest issue though is that his Scorpio mid-heaven is almost in exact alignment to Scorpio in Saturn -- a major obstacle to winning recognition in his career now. Sadly, with such a heavy aspect weighing on his area of aspiration, the odds are not in his favor this time around.
Is your life about to change? Unlock the answers you've been searching for with a Psychic Reading. Call 1-800-749-5790 right now!