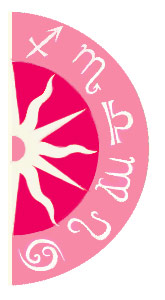 He's back: James Franco, the jack-of-many-trades is starring in Oz, The Great And Powerful, opening nationwide this Friday. Leading his biggest movie yet, we're about to see more James than ever. But even as Hollywood's cutest overexposed celebs, James still remains an enigma. So, what is really going on inside his brain?

Share a free sample 2014 Romantic Forecast. Get a free preview of your one-week Romantic Forecast! Make the most out of your love life!

As an Aries with a Virgo Moon, Mercury in Aries and Mars in Leo, James has a never-ending supply of ideas, energy and theatrics. He loves attention and his curiosity drives him. However, his Achilles' Heel is his lack of stamina; as soon as he gets an idea rolling, he tends to verve off. Although his Virgo Moon and Venus in Taurus ground him, his active fiery energies override all. He's not a planner, and he likes every day to have the potential to be a beginning. Yes, James is out for adventure and staying ahead of the curve. He's a guy who lives for freedom and exploring the wild unknown.
Find your path to fulfillment with a Free Psychic Love Reading. Call 1-800-749-5790 right now!