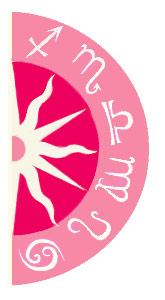 Gwyneth Paltrow and her Coldplay rock-star hubby Chris Martin (who turns 34 today!) have one of the most solid marriages in Hollywood. After almost nine years together, nearly eight of them married and with two kids -- Apple, 6, and Moses, 4 -- there have almost never been rumors of drama. So what is their secret?

Share a free sample 2014 Numerology Forecast. Make 2014 your best year ever! Get a free overview including your Personal Year Number!

Gwyneth is a Libra, and Chris is a Pisces, so they both have even-keeled personalities that hate confrontation. Both signs thrive on partnership and, once they get into a routine, they can easy stay on track. Plus, with Gwyneth being a Pisces Rising, she easily syncs with her hubby's mood and chances are their relationship is centered on imagination, romance and compassion. Also, due to the Pisces theme of the bond, they are extremely private and thrive on a sense of mystery -- which likely is the true glue that holds them together, despite the glare of fame.
Welcome new beginnings with a Free Psychic Love Reading. Call 1-800-749-5790 right now!