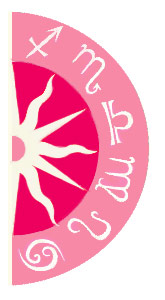 Toby Canham/Getty Images
While promoting her upcoming movie
Love & Other Drugs,
Anne Hathaway has revealed to the world she is taking a break from acting to pursue her other interests -- including physics. While a vacation is in order, can this change trigger a new career?
Share a free sample Sexual Soul Mates Reading.This hot and steamy reading for two will help you uncover your deepest desires and enhance your connection as a couple.
As a Scorpio, Anne is always going to be transforming herself and revealing shocking secrets that people don't suspect. As it stands, with the Sun and Venus in its prolonged tour of Scorpio (until January 7, 2011, although currently retrograding in last degrees of Libra), it's no wonder she is switching gears to focus on herself. Plus, she is currently going through her Saturn Return with her mid-heaven also feeling the pressure of the disciplinarian planet -- which can mean a change in her career. However, since her mid-heaven is in Libra, it denotes duality in her profession, which means she won't be giving up acting anytime too soon.
Got Questions? Need Answers? Get insight into what lies ahead with a Psychic Reading. Call 1-800-749-5790 right now!