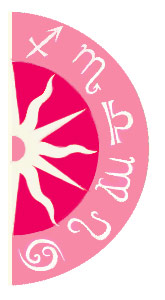 Michael Loccisano/Film Magic
Sunday night, busy beauty Holly Madison celebrated the premiere of her new E! series,
Holly's World
; she's also heading up a successful burlesque show in Las Vegas. She's focusing on her career (even remarking recently that she'd consider getting involved in Vegas politics), but when will her love life turn around? After her long relationship with Hugh Hefner, hoping he'd marry her, she had a spotty run of romances, including flings with Cris Angel and Benji Madden. So what's next?
Share a free sample Soul Mate Compatibility.Are you with your true Soul Mate? Discover if you are with the person that you can share sorrows and triumphs with!
This summer may likely be quite a hot one for Holly, a Capricorn, as the Sun moves into her house of commitment on June 21 and also hosts a solar eclipse on July 11 -- which can stir up the kind of sudden changes that could introduce Holly to the man of her dreams. (If not during this eclipse, then by 2012; the eclipses in her marriage house will occur every six months until then.) As for Holly's type? She's a Pisces Moon, and mixed with her Capricorn, this means she's compatible with an older, entrepreneurial mate. However, she's playful and loves fantasy, so while he should be mature, he still needs the energy to be able to physically keep up with her.
Got Questions? Need Answers? Get insight into what lies ahead with a Psychic Reading. Call 1-800-749-5790 right now!