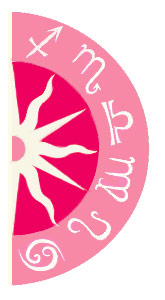 John Shearer/Getty Images
Natalie Portman's son with fiance and
Black Swan
costar, Benjamin Millepied, finally arrived this week on June 14! While the baby's name is still a mystery, we know he is a Gemini (just like his mom) and has a Sagittarius Moon with a lot of Air elements. So what does this mean? What will the littlest Portman-Millepied grow up to be like?
Share a free sample Soul Mate Compatibility.Are you with your true Soul Mate? Discover if you are with the person that you can share sorrows and triumphs with!
As a Gemini Sun, with Mercury and Venus also in airy Gemini, chances are he will be a very curious, talkative and outgoing child who will not like to sit still for very long. His Sagittarius Moon will increase his energy to want to learn, explore and dream. Luckily, having jet-set parents is appropriate for him, as he'll thrive being able to have access to the world and various cultures.
As for following in his parents' famous footsteps, chances are good -- he'll enjoy being the center of attention. What will be the baby boy's next big step into the spotlight? When people finally learn his name!
Got Questions? Need Answers? Get insight into what lies ahead with a Psychic Reading. Call 1-800-749-5790 right now!