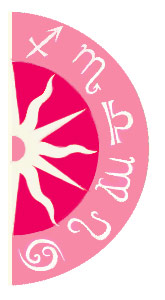 Getty Images
Since the mass exodus of SNL stars that left last season, many have wondered where the comedians would end up. Kristen Wiig continues making films. Andy Samberg has his own TV show and Seth Meyers will be hosting a network late night talkshow. Bill Hader, a surprise departure, has since taken to a major commercial campaign and is currently the starring voice of Flint Lockwood in Cloudy with a Chance of Meatballs 2. However, will we get to see Bill again? Perhaps a Stefon movie?

Bill is a Gemini, (Sun and Mercury) which gives him new ideas and opportunities. Communicating is his natural gift, and he's probably just biding his time. With lucky aspects in his solar money house and long-term planning, he'll be set up for 2014 summer and the year to follow, as he'll have Jupiter touring his Third House of TV. This lucky aspect is also conjuncting with his Mars, which is his ambition planet. Chances are, he'll land his own TV show by then, most likely with new characters rather than his old ones, like Stefon.
Can't get enough astrology?
Like us on Facebook!