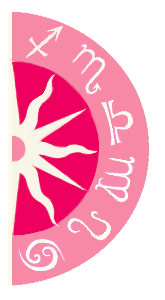 Steve Granitz/Wireimage
Angelina Jolie, America's sexiest humanitarian, actress/mom/director/producer/screenwriter, turns 36 this weekend! Having transformed her life from Hollywood wild child to saintly do-gooder and multi-tasker extraordinaire, Jolie has proved that she is a woman who can do it all. So what more can we expect?
Share a free sample 2014 New Astrology Forecast.Get your 2014 Year of the Horse Astrology Forecast featuring your Chinese and Western Signs today!
Angelina is a Gemini with a Cancer Rising and Aries Moon, which indicates that her upcoming year will focus on humanitarian causes. Jupiter, the planet of expansion, is touring her solar Twelfth House of compassion and can win her some major power for her causes -- especially new ones she'll adopt over the next year. Speaking of adoption, chances are Jolie won't be adding more children -- but if it were to happen, Angie and longtime partner Brad Pitt would add to their brood toward the end of 2011 or mid-2012. That's when her First House, the ruler of identity, gets eclipse action -- which denotes a sudden turn of events that even she didn't see coming! Of course, with a Gemini Sun and Aries Moon, this is a lady that is always up for surprises.
Got Questions? Need Answers? Get insight into what lies ahead with a Psychic Reading. Call 1-800-749-5790 right now!