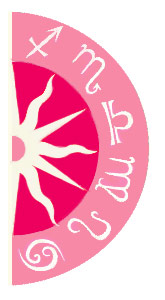 After five years as the anchor of CBS Evening News, it looks like Katie Couric is about to make a big leap from her job as the first solo female anchor of a nightly network news broadcast to a job hosting her own syndicated talk show. While nothing has been officially confirmed just yet, Couric's contract is up in June, and Katie is already talking openly about her talk-show venture. So, what do the stars have to say about Katie's future?

Share a free sample 2014 Romantic Forecast. Get a free preview of your one-week Romantic Forecast! Make the most out of your love life!

As a hardworking Capricorn, Couric has the power to work through anything. But, with her Pisces Moon, if she doesn't feeling like she is making a difference, she won't thrive. It's a known fact that she hasn't been completely happy anchoring the news, so it's likely that she is indeed leaving CBS, and June will mark the best time for her departure. She'll also be receiving Jupiter, the planet of luck, into her Fifth House for a year, which gives her good energy in her entertainment sector -- an area that rules her career, since she is in the public eye. Plus, a series of Gemini/Sagittarius eclipses will also be hitting her with new work routines and clearing out her past, signaling that Katie is making the right move at just the perfect time!
What romantic adventures are in store for you? Find out with a Psychic Reading. Call 1-800-749-5790 right now!