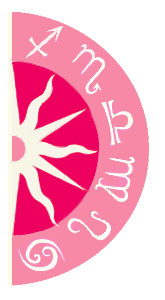 Getty Images
Valentine's Day is almost here, and weird astral influences are in the air. In other words, expect this V-Day to be hit or miss when it comes to love. With Jupiter just entering Aries, surprises are in store. However, Saturn, the planet of harshness, is going retrograde in Libra, the sign of partnership -- which throws a major wrench in the romantic works. In addition, Chiron, the wounded healer, is in oversensitive and romantic Pisces, making for a weird stew of confusion, spontaneity and passion. So what will Valentine's Day look like for each sign? Here's a thematic rundown …
Aries:
Unexpected and fun
Star examples:
Reese Witherspoon, Elton John, Lady Gaga
Taurus:
Quiet and simple
Star examples:
David Beckham, Penelope Cruz, George Clooney
Gemini:
Spontaneous and sexual
Star examples:
Johnny Depp, Naomi Campbell, Donald Trump
Cancer:
Expressive and peaceful
Star examples:
Prince William, Tom Cruise, Sandra Oh
Leo:
Bonding and traditional
Star examples:
Madonna, Taylor Momsen, Sean Penn
Share a free sample 2014 Vedic Moon Sign Forecast.Take a look at how the transit of planets will affect your relationship and finances in 2014!
Virgo:
Flirty, yet dramatic
Star examples:
Pink, Richard Gere, Ryan Phillipe
Libra:
With delays, but sweet
Star examples:
Kate Winslet, Gwen Stefani, Simon Cowell
Scorpio:
Special, but bizarre
Star examples:
Leonardo DiCaprio, Anne Hathaway, Owen Wilson
Sagittarius:
Quirky and expensive
Star examples:
Snooki, Britney Spears, Jay-Z
Capricorn:
Romantic and self-assuring
Star examples:
Kate Middleton, Kate Moss, Jude Law
Aquarius:
Sexy and creative
Star examples:
Jennifer Aniston, Paris Hilton, Ashton Kutcher
Pisces:
Social and nostalgic
Star examples:
Drew Barrymore, Jon Bon Jovi, Kurt Russell
Got Questions? Need Answers? Get insight into what lies ahead with a Psychic Reading. Call 1-800-749-5790 right now!