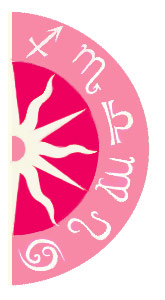 Rihanna has international musical superstardom, and now she's branching out into film with her debut in Battleship (May 18). However, not since her tumultuous relationship with Chris Brown, which ended in 2009, has she had a steady man. While rumors are swirling about possible dates (Ashton Kutcher), she claims she's single and refuses to say more. She can't stay solo forever, as she's only 24. So what kind of guy would be able to Talk That Talk to her?

Rihanna is a sensitive Pisces, and either loves or hates. For love, she needs to feel an instant connection so powerful it feels like destiny. Yes, she's a gal who believes in fairytales, and she's all about happy endings and ideal love. Plus, with her Moon and Venus in Aries and Mars in Sagittarius, she definitely jumps in headfirst. Unfortunately, with Saturn (hard lessons) in her relationship house, she likely won't meet a new Prince Charming until after October 2012.

As for who to expect, hopefully he can balance out her dreaminess and ground her, but still be playful enough to keep her imagination soaring. Any Air sign would be perfect, but would need something watery ruling his Moon, Venus or Mars. Possible choices are: Ashton Kutcher (Aquarius, Cancer Mars), John Mayer (Libra, Cancer Mars), and Spike Jonze (Libra, Pisces Moon).
Can't get enough astrology?
Like us on Facebook!