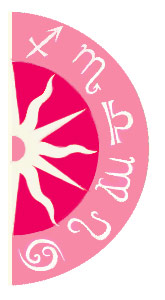 Bradley Cooper, 2011's Sexiest Man, has had his share of A-list women -- Cameron Diaz, Renee Zellweger, Jennifer Aniston and most recently, Zoe Saldana. Having had the best of the best, who would satisfy this Capricorn man who is recently single again?

When it comes to love, this man will take his time, so forget seeing him rush to the altar anytime soon. While he dates high profile women, he would be better off with a lady not in the spotlight to match with his earthy self. Not only is his Sun in Capricorn, so is his Mercury and Venus. However, with his Mars in Sagittarius, he does have a quirky and unpredictable side. What kind of lady would appease his cool, calm and finicky tastes? Likely another Earth sign with an Air sign Moon or Mars. Examples would include, Christina Hendricks (Taurus Sun, Aquarius Moon), Rinko Kikuchi (Capricorn Sun, Mars in Aquarius), or Carmen Electra (Taurus Sun, Mars in Gemini).
Can't get enough astrology?
Like us on Facebook!