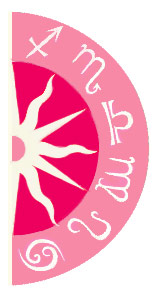 iStock.com
Here's a way to show you care: Pull a little April Fool's Day prank! It's a gesture of affection and an excellent way to flirt, to boot. This is about having a sense of humor, people!

Newsflash: A sense of humor is one of the sexiest qualities you can possess. Don't believe me -- do your own research. Ask your friends and look at the polls. "Sense of humor" always makes the top five, and is often one or two for both men and women. Because, bottom line, at the end of the day everyone wants someone they can laugh with. So don't let this opportunity to show off your sense of humor go by.

And just because I love to see you succeed in all areas of life -- including and especially the fun and frivolous realms -- here are a few astrological hints to get you in the foolin' mood …

Earth Signs (Taurus, Virgo, Capricorn)
You like your humor bawdy or -- in other words -- universally fun. The jokes you deliver that involve bare bosoms and backsides are always a hit, as is cross-dressing, fart noises and the well timed, "that's what she said." Sure, you can enjoy a highbrow New Yorker cartoon with the best of them, but come on; at some point you just have to open up and accept the basic grossness of human nature (that's what she said.)
More Ideas: Whoopee cushion, surprising your boyfriend by flashing him, hide your hubbies underwear and replace with embarrassing man-bikinis. Also effective are jokes that "made ya flinch."

Air Signs (Gemini, Libra, Aquarius)
You delight in whimsy and absurdity. And a touch of surrealism is the sublime cherry on top. You understand what's funny about Alice in Wonderland, Stephen Wright and Andy Warhol. You're not trying to be elitist -- you just have an appreciation for strange juxtapositions and unexpected twists of cause and effect. Some won't get it, and that makes it even funnier to you.
More Ideas: Go crazy with googly eyes: stick them on everything from food to toothbrushes to staplers. Unplug two phones and switch the lines: watch them go crazy trying to figure out why they're getting the wrong calls. Fake foods and dribble glasses -- oh, you can't get enough.

Water Signs (Cancer, Scorpio, Pisces)
Your wit is best served dry. Deadpan humor is your forte. You have the poker face of a WCP champion and can deliver the wildest of statements in the most casual, matter-of-fact voice. Whether your target is gullible or sophisticated, you easily pull one over on them.
More Ideas: Convince your colleague to help you capture the "bat" in the kitchen, or the "snake" in the sink. Superglue coins to the floor or sidewalk and watch people try to pick them up. Announce your religious conversion, unlikely engagement, or decision to join the peace corps -- savor the reactions all day.

Fire Signs (Aries, Leo, Sagittarius)
Wordplay is your area of expertise. Okay, it is possible to be punny to a fault. But you manage to bring language arts to an exciting, intriguing level every time. Take a cue from your fellow Fire sign, the inimitable sex symbol Mae West who said, "A hard man is good to find."
More Ideas: Fake news, i.e. telling false stories about you and yours and when you have 'em in the palm of your hand, riled up to the point of complete amazement, you drop the "April Fool's!" Also, false documents -- forms that are official-looking enough, but have hilarious wording.
Can't get enough astrology?
Like us on Facebook!