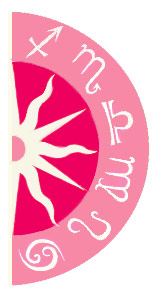 Chelsea Clinton says, "2014 is the year of the baby". Finally, she and hubby of three years, Marc Mezvinsky, will make next year the one to start a family. She says making this announcement will get her mom off her back, since both her parents have been waiting and nagging her about grandchildren. So will 2014 indeed be the year Chelsea becomes a mom?

Share a free sample 2014 Day-By-Day Forecast. Look forward to 2014 with this forecast as your road map. Get a free one-week preview now!

Chelsea is a Pisces with a Scorpio Rising and a Leo Moon, which gives her great odds for becoming a parent. In fact, it might happen sooner than later, as she has Jupiter, the planet of luck and expansion, in her solar fertility house from June 2013 to June 2014. This puts Chelsea in control. However, chances are a baby and a crucial turning point in her career will happen simultaneously, and she'll have to learn how to juggle new priorities fast. Luckily, Chelsea takes after her parents astrologically -- Hilary is a Scorpio and Bill is a Leo -- so taking command will be a cinch for her.
What romantic adventures are in store for you? Find out with a Psychic Reading. Call 1-800-749-5790 right now!