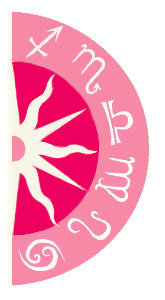 Getty Images
The world is buzzing about the arrival of Kim and Kanye's baby in mid-2013, and though Kim is about to become a new mother, it seems she can't leave her past behind -- namely her divorce from Kris Humphries. With litigation going on over a year and a half, who knows when they'll ever settle? So, is baby coming first, or divorce?
Share a free sample Soul Mate Compatibility.Are you with your true Soul Mate? Discover if you are with the person that you can share sorrows and triumphs with!
Kim is out of her
Saturn
Return, with the heavy planet biting down on her identity house ruled by
Libra
(her
Sun
sign). This signifies a good period for her, with her life coming together, what with her relationship with Kanye and their upcoming bundle of joy. While the divorce is the only damper, chances are she'll be able to get out before she gives birth, with her Rising sign being
Sagittarius
, and lucky
Jupiter
now in her partnership house. She'll have the magic touch when it comes to settling agreements and resolving peace. Of course, some drama will come with the divorce finale, but chances are, Kim will get what she wants: freedom and a brand-new baby!
Got Questions? Need Answers? Get insight into what lies ahead with a Psychic Reading. Call 1-800-749-5790 right now!