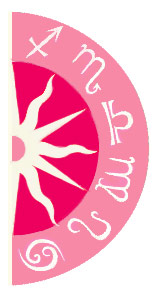 ABC
Here we go again! The sixth edition of ABC's
The Bachelorette
kicked off Monday, starring Ali Fedotowsky, who we met during the last season's
The Bachelor
-- when she left Jake so that she didn't lose her new job. Now, realizing love is more important than career, Ali is back and ready for romance, but what are the chances of her actually finding a soul mate? With only one Bachelorette (Trista Rehn) actually making it to the altar, is Ali going to be the next?
Share a free sample Soul Mate Compatibility.Are you with your true Soul Mate? Discover if you are with the person that you can share sorrows and triumphs with!
As a Cancer, this is the perfect time for Ali to go for it, and find a committed partnership. With eclipses in her identity and relationship house in full effect until 2012, and Pluto (planet of transformation) in her marriage house, all the heavenly influences are out there to help her seal the deal. Plus, Ali actually launched this journey in early March, when the season began filming, with a strong compatible Pisces Sun and Jupiter helping her –- so, no doubt, she'll at least end this season with an engagement.
Got Questions? Need Answers? Get insight into what lies ahead with a Psychic Reading. Call 1-800-749-5790 right now!