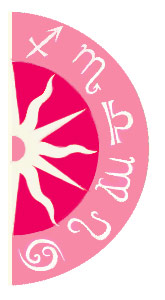 The world can't get enough of Bethenny! From meeting Bethenny years ago, as she was struggling with her natural chef business and hanging with the New York Housewives, to selling her brand of Skinnygirl cocktails to millions, to finding her Prince Charming and having a baby, to getting her own spin-off and now to the uncharted territory of her own talk show that premiers on June 11, we have seen the complete Bethenny evolution. So, is her future still paved in gold?

Bethenny is completely unfiltered, and the more inappropriate the discussion and choices, the more willing she is to go along with it, which makes daytime talk much more interesting. Plus, since she's a Scorpio to the umpteenth degree with her Sun, Jupiter, Mercury and Venus all in this intense sign, she's all-or-nothing about anything she gets involved in. She also has Taurus in her house of partnerships and contracts, which will help her launch in a new direction. She'll be working the Scorpio-Saturn conjunction with all her might by October, so expect Bethenny's world domination to continue.
Can't get enough astrology?
Like us on Facebook!