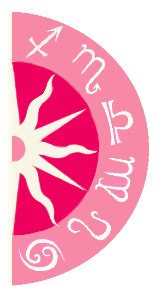 Jean Baptiste Lacroix/Wireimage
Charlie Sheen is not a guy to take anything lying down, and last night he truly does have tiger blood pumping through his veins. After nearly being booed off stage during the Detroit debut of his My Violent Torpedo of Truth live tour, the world's foremost Vatican Warlock Assassin was greeted by a standing ovation at his Cleveland performance on Tuesday. So, as the erstwhile Two and a Half Men star continues with his stand-up show, is he entering a new phase of his career? And, more importantly, has he said goodbye to primetime TV forever?

Charlie is guy that will always have a comeback, and as a Virgo with a Gemini Rising, TV is his destiny. Despite the tumultuous events of the past few months, things will eventually turn around. In fact, all this hype and publicity will only work in Sheen's favor. With Mercury now in retrograde until April 23, chances are good fans will hear something about Two and Half Men coming back this month. Even if the hit show doesn't return, by June Charlie will have a wealth of new opportunities at his fingertips. Yes, Charlie is still winning!
Can't get enough astrology?
Like us on Facebook!