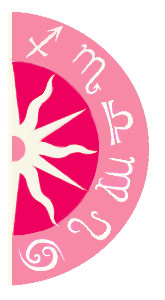 After skyrocketing to fame on Gossip Girl, Jessica Szohr will not be returning full-time for the show's fifth season. Having started a film career, which includes last summer's Piranha 3-D, Jessica has a slew of movies due out over the next year, including Love, Wedding, Marriage -- which hits theaters June 3. Now that Jessica has left her TV launching pad behind, is continued success in her stars?

Share a free sample Friends and Lovers. Are you two best friends and lovers? Try a free sample of this powerful reading today!

With Jessica's Sun, Mercury and Venus all in Aries, she has just had one of the luckiest phases she will have in 12 years, as Jupiter and a host of other planets were all in Aries for most of the first half of 2011. It marked a good time for her to discover her independence and take risks. Chances are this auspicious beginning will help her in building a solid career in film, keeping fans surprised with the roles she takes. However, because of her fast Aries energy, the only person that can stand in her way is herself. If she learns to pace herself over the next year, as the universe shifts to methodical and earthy Taurus, the world is her oyster!
Is your life about to change? Unlock the answers you've been searching for with a Psychic Reading. Call 1-800-749-5790 right now!