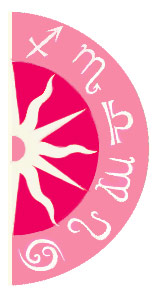 Jamie McCarthy/WireImage
Kourtney Kardashian and her baby-daddy Scott Disick are no strangers to drama. In fact, their relationship is so tumultuous at times that fans of Kourtney & Kim Take New York, the E! reality show on which they star, are secretly rooting for them to break up. Well, these people will be happy to learn that Kardashian is denying rumors that she and Disick got engaged during the yet-to-air Kourtney & Kim finale. But whether or not there's a ring on Kourtney's finger, can this relationship last?

As an Aries, Kardashian is a rebel. The more someone says no, the more she'll say yes. So, despite her stubborn Capricorn Moon in the mix, know that she's in it for the long haul. As for Scott, he's a Gemini, which indicates many sides to his personality and an inclination to play things up for the cameras. The fact is that his Venus is in family-loving Cancer, so his devotion is there. However, with his Mars in Gemini and Sagittarius Moon, he'll always be a loose canon; no matter how committed he is to Kourtney, his actions will always be erratic. Of course, they've been together for so long -- and have 1-year-old son Mason Dash to consider -- that all signs point to them sticking it out, especially since their antics gain them so much attention.
Can't get enough astrology?
Like us on Facebook!