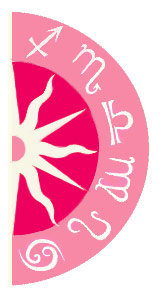 Denise Truscello/Wireimage
For fans of the Kardashians, watching Kourtney and Scott's tumultuous relationship has been painful. He's a disrespectful mess, but she always forgives. Together they have a baby son, Mason, but does that necessarily mean she can't say "Enough!" and pack her bags? Is there hope for Kourtney to strike out on her own as a single mom?
Share a free sample Year of the Horse Financial Forecast.How will you fare financially during the Year of the Horse? Find out today!
With an Aries Sun and Mars (planet of drive), Kourtney doesn't follow orders. Aries is the sign of the rebel, and the very fact that everyone's against her relationship will make her fight harder for it. However, Saturn (the disciplinary planet) is currently touring her partnership house and is out to clear up unbalanced relationships by mid-2012. Plus, she has strong aspects in her house of identity -- further boosting her confidence and showing her how strong she is independently -- and those will continue from early September and again in the first half of 2011. All in all, these aspects together are out to wake her up, enlightening her about what she truly deserves.
Got Questions? Need Answers? Get insight into what lies ahead with a Psychic Reading. Call 1-800-749-5790 right now!