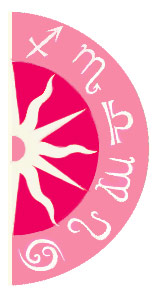 It's official; Madonna will be performing at the Super Bowl XLVI in Indianapolis on February 5, 2012! Heralded as one of the biggest time slots to perform worldwide, with nearly 100-million American households turning in -- this means major attention for Madonna, who hasn't had a record out in three years or a Top-40 hit in three years! Will this performance bring her back to the top?
Share a free sample 2014 Love Forecast.Try a preview of your one-week Love Forecast! Make the most out of your love life in 2014 and beyond!
Madonna is a Leo with a Virgo Rising, giving her two crucial astrological events that will help her make her halftime show one of the most memorable moments in her career: she's got Jupiter (expansion, luck) in her solar career house, and Mars in Virgo in her identity house. Mars will be retrograding on February 5, which normally might trigger challenges, but since Madonna's musical career has been a somewhat stagnant, the retrograde will work in her favor, as retrogrades tend to make nostalgia a lucky charm! No doubt if she integrates her most popular hits into the show, sentiments will stir and album sales will get a boost!
Got Questions? Need Answers? Get insight into what lies ahead with a Psychic Reading. Call 1-800-749-5790 right now!