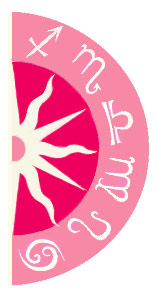 Mercury officially goes retrograde today, so prepare for communication breakdowns -- not only with technology but humans too, as it will be hard to know what you're actually feeling and who has your back. Though starting in Pisces, this retrograde will spend most of its time in Aquarius and won't go direct until March 1. With this in mind, what kind of mishaps are likely in Hollywood?

Share a free sample 2014 Jobs and Money Forecast. Master your money and attain success with this startlingly accurate forecast!

Aquarius rules friendships, so associations are likely to go under the gun, and will hit Air signs the hardest. This can make relationships -- such as Kanye (Gemini) and Kim (Libra) -- extra rocky, bringing a strange distance to Air-sign couples.

Other potential problems will occur with deals being made for Air signs. Although it's big news that George Zimmerman and DMX are going to fight, Zimmerman is a Libra and this could mean a break in the contract. So despite the hype, hold off programming your DVR for now! Yes, Mercury Retrograde may bring disappointments, but it's just the universe keeping life interesting!
Do you like a head start in the matters of the heart? Get a Free Psychic Love Reading. Call 1-800-749-5790 right now!