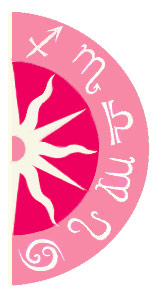 Mirror Mirror
opens tomorrow, co-starring Lily Collins. Despite having celeb genes (Phil Collins is her dad) Lily has worked through the ranks herself to gain her own fame -- which included many small bit parts and hosting jobs. However, her time has now come as she stars next to Julia Roberts. So, will this be Lily's big breakout hit?
Share a free sample 2014 Vedic Moon Sign Forecast.Take a look at how the transit of planets will affect your relationship and finances in 2014!
With
Mars
in
Virgo
and in Lily's teamwork house, this is the time for
Pisces
Lily to gain from partnerships, as in this one with Julia. Also, with Julia as a compatible
Scorpio
, they are a likely duo to help each other towards a hit. However, on her own Lily has some amazingly lucky aspects, as in her natal Mars in
Gemini
aligning with the current
Venus
in Gemini, which will help her win over new fans, And her
Jupiter
Return -- due to start in early June -- ensures that major opportunities are coming her way and chances are this is the start of a very long and lucrative career for Lily!
Got Questions? Need Answers? Get insight into what lies ahead with a Psychic Reading. Call 1-800-749-5790 right now!