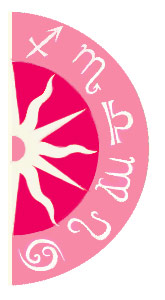 Colorful Nicki Minaj is up for a Best New Artist Grammy, and she is the critic's pick. However, what do the stars have to say? Will Nicki be the big winner of the night, and if she is, what does her future hold?

Lucky for Sagittarian Nicki, the stars are on her side! Yes, Mars (ambition) will be in Virgo, her solar career house, now through July 3, 2012. This will give her a giant boost of power and recognition. Plus, her solar Mars in Capricorn will be trining this Mars -- an added dose of luck. But despite this positive aspect for the first half of 2012, she will have to work harder the rest of the year, as she will be starting her Saturn Return. And with her natal Saturn being at zero degrees of Saturn, the true test of her longevity will begin immediately, urging her to prove she is more than a one-album pony.
Can't get enough astrology?
Like us on Facebook!