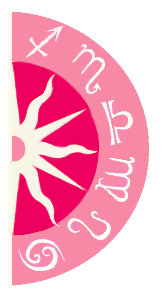 Hollywood Life
Rachel Uchitel (of Tiger Woods mistress fame) is desperately trying to hold on to her 15 minutes in the spotlight. For a hot minute, she was a special correspondent on Extra. Then, she signed on for NBC's Celebrity Apprentice, but before the season kicked off, was fired upon signing up for VH1's Celebrity Rehab. Reality TV is her future, but can she make her fame last?

Yes, as an Aquarius, this is an auspicious time for Rachel to go into a career in media with lucky influences in her communications house. Plus, with her Mars in Capricorn, she has a very ambitious side: once she encounters a small opportunity, she has the ability to turn it into bigger ones. Money does play a big part in her life, as does status, so as long as she can get attention for notorious indiscretions in her past, she will go for it -- and with her Venus and Mercury in Aquarius, she does derive thrills from unusual sources, like becoming famous simply for sleeping with a famous married man.
Can't get enough astrology?
Like us on Facebook!