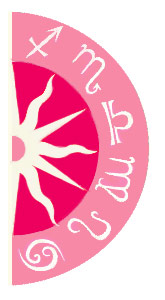 Jason Merritt/Getty Images
Robert Pattinson's turn as goodhearted vampire Edward Cullen in the Twilight films propelled the young actor to A-list status, made him a worldwide sex symbol practically overnight and earned him a slew of honors -- including a spot on TIME magazine's 2010 list of the 100 most influential people in the world. Can Pattinson, who turns 25 today, sustain his success when the Twilight franchise is done?

Robert has a lot to look forward to over the next year, as he'll be hosting Jupiter, the planet of fortune, in his solar identity house and his natal house of hopes and wishes. This will guarantee his success into 2012, when the Twilight series finale Breaking Dawn - Part 2 hits theaters. However, things get a bit trickier after that, as Pattinson's luckiest aspects will have past. From there, he'll receive Saturn, the planet of discipline, into his entertainment house on October 4, 2012 -- a development that will adversely affect his career, as it marks a period that will test one's stamina and abilities. So, to have longevity, this next year will be crucial for him expand his resume and make smart business decisions so that he'll be ready when the true test of his talents begins.
Can't get enough astrology?
Like us on Facebook!