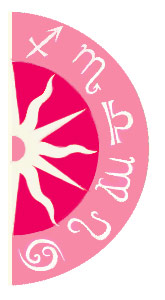 Last week,
Ringer
premiered, bringing back Sarah Michelle Gellar to prime time. While the hype built for weeks, the reviews came in tepid. However, the ratings were strong and it's anyone's guess how things will play out in the long run. Let's see what her stars say …
Share a free sample 2014 Day-By-Day Forecast.Look forward to 2014 with this forecast as your road map. Get a free one-week preview now!
Sarah is an Aries, and for anything she does to succeed it needs to have a good head start. Since the launch went well, we can expect to see more media attention build the show's initial audience. With Mars in Leo over the next few weeks boosting the power behind Sarah's Aries Sun and natal Saturn in Leo, the show will get more hype as her prior work comes to the forefront and highlights her current projects. Then in mid-November, Mars will affect her daily routine for seven months, and she's likely to have steady employment. Looks like
Ringer
might just make it to Season Two!
Got Questions? Need Answers? Get insight into what lies ahead with a Psychic Reading. Call 1-800-749-5790 right now!