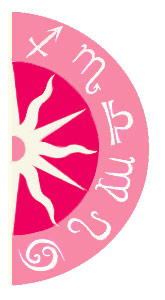 The Snow White resurgence still goes on, this time it's Snow White and the Huntsman, starting Kristen Stewart and Charlize Theron. While Mirror, Mirror didn't live up to box office expectations; this dark twist might have a stabbing chance. What do their stars say?

Chances are fair, but not amazing for Snow White and The Huntsman, as the Venus in retrograde will make all things with nostalgic value more in demand. However, all the main stars of the movie are ruled by Fire signs: Kristen is an Aries, Charlize and Chris Hemsworth are Leos, which make for only a mild boost in luck -- since Leos do have the power of Jupiter in Taurus in their career house. With only Uranus in a Fire sign, the ruling element in the skies for the main run of this movie is Air and Earth, which will make an average impact. So, the good news is that the film won't be a flop -- but it won't be a smash either.
Can't get enough astrology?
Like us on Facebook!