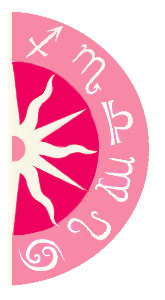 Everybody loves Sofia Vergara. Men all want to date her, women all want to look like her -- and rightfully so; she's hot, fun and smart! Having become a household name as Gloria Delgado-Pritchett, the loveable wife on Modern Family, Sofia is now branching out with fashion line for "soccer moms" at K-Mart and taking her name to the next branding level. However, will it be fab or a flop?

Share a free sample Friends and Lovers. Are you two best friends and lovers? Try a free sample of this powerful reading today!

Sofia is a double Cancer, Sun and Moon, which give her a good head for business -- as Cancer is the ruler of business. Plus, she currently has her natal Mars in Leo lit up with a Mars Return -- which will give her the added boost of attention she will need. However, over the next seven months she'll really have to push her line, as that is when aggressive Mars will be in detailed Virgo in her media house. Looks like the planets are lined up to help her succeed!
What romantic adventures are in store for you? Get a Free Psychic Reading today. Call 1-800-749-5790 right now!