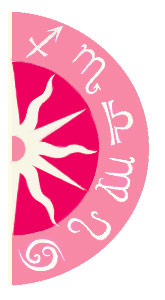 Marvel Entertainment
The eagerly anticipated big-screen adaptation of Thor, starring Chris Hemsworth as the hammer-wielding Norse god, hits theaters this Friday. While Chris is famous in his homeland of Australia, having had a long career as a leading soap opera star there, he has yet to make a splash in the U.S. His biggest role to date was playing James T. Kirk's father in the opening scenes of J. J. Abrams' 2009 film Star Trek. Will Thor make Chris Hemsworth a household name -- worldwide?

Luckily, Chris couldn't ask for better stars behind him during his leading-man debut! As a Leo, he now has a slew of planets in his house of international affairs that will help him along. The roster of planets includes: Mercury, the communications planet; Venus, the pleasure planet; Mars, the planet of ambition and sexual appeal; Jupiter, the big daddy of all planets, ruling over luck; and Uranus, the planet of innovation. With five on the nine planets on his side, global success is in his stars! Thor is powerful indeed.
Can't get enough astrology?
Like us on Facebook!