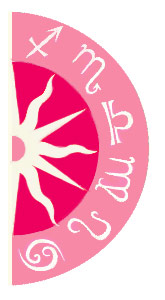 Is over-thinking ruining your sex life? Try these ideas for getting out of your head and into the bed …

Sagittarius: Love Here Now
As the sign of expansion, sophistication and worldly exploits, your tendency is to fantasize about the ideal sexual encounter that happens in the magical future world of Over There. You know, Over There, where the thighs look thin from every angle, the partners are always knowledgeable about clitoral whereabouts and the orgasms flow with the sweet ease of chocolate sauce poured over an ice cream sundae. As much as I hate to break it to you, Over There is a mirage. Which is to say that if you make it to the location of Over There, it will dry up and transform to the land of Here Now.

But don't lose heart. Here Now is good, if you choose to fully inhabit it. Sure, the thighs wobble and you may have to run a guided tour to the clitoris. But once you give up all thoughts that things are better somewhere else, you just might learn to relax and get deeply, madly into the utter majesty of place. Here Now is, after all, the only place that orgasms can actually happen.

Capricorn: Think Soft
Newsflash: Sex and power are not always intertwined. If you're having trouble relaxing into your exploits, don't think of them as exploits. Maybe someone is on top and someone is on bottom. But who's to say which position is better? And if you're thinking about this during sex, you're not enjoying yourself to the fullest potential of your pleasure.

Unless you are Madonna or a political courtesan, your sex life probably has very little to do with the power dynamics between people. So release the need to tally up the score, and suddenly you'll be able to focus on nothing but the delicious sensations of your physical exchange.
Can't get enough astrology?
Like us on Facebook!