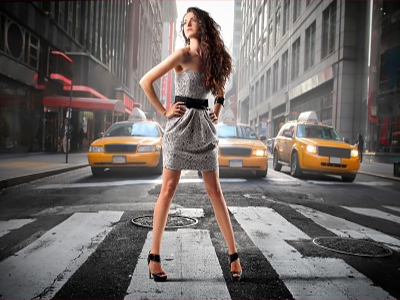 Learn how to rock the look that's perfect for your sign by learning the secrets of dressing and accessorizing -- astro-style!
ARIES
Aries rules the head, so make a bold impression by donning extravagant headwear. Hats, headscarves, glasses or even wigs will make you stand out stylishly from the crowd.
TAURUS
Taurus rules the throat, so try donning necklaces and scarves to add some pizzazz to your wardrobe. Taurus care most about comfort and price when it comes to dressing, so an inexpensive accessory such as a scarf can add a lot of flair without breaking the bank.
GEMINI
Gemini rules the arms and hands, so break out the bracelets, gloves, rings and arm warmers. Clunky, unique, eccentric jewelry will brighten up your extremities and be a perfect reflection of your one-of-a-kind personality.
CANCER
Cancer rules the breast, and being an intimate sign, it cares more about underwear than outerwear. A closet full of flirty designer lingerie is more important to you than a million dollar outfit. Try experimenting with wearing high-concept intimate apparel that serve as clothing in their own right.
LEO
Your sign rules fashion, so you could wear a potato sack and outshine Anna Wintour. Leos have an uncanny knack to spend relatively little money on clothes yet look like top-ranking fashionistas. Shop in discount stores or ethnic markets to find one-of-a-kind outfits that are fabulous and individualistic, yet don�t break your budget.
VIRGO
You have a pragmatic approach to fashion -- it�s sensible shoes and practical mix-and-match basics all the way. You are more likely to decide your outfits based on the weather report rather than the pages of Vogue.
LIBRA
Even if you deck yourself out in anti-establishment punk-rock attire, you will have air of graciousness and harmony. Libra is ruled by Venus, the planet of aesthetic beauty. You have an innate sense of style that always shows -- no matter if you are into streetwear or high fashion.
SCORPIO
You can make anything sexy. Your sign is not into the superficialities of fashion --nor into its high price tag, either. You are more into showing your soul through your intense personality than any mere item of clothing. When you do dress up, however, it is to be provocative and highlight your animal magnetism.
SAGITTARIUS
Sagittarius is an active sign, and no matter what you wear, it can�t impinge on your sense of movement. Street styles may suit you best, so you can go out and explore the world without worrying about trudging through the mud.
CAPRICORN
Capricorn needs status through buying established, highbrow brands. Your tastes tend to be conservative, making you definitely more Brooks Brothers than Dolce Gabbana. You appreciate well-made fabrics and expert tailoring, so next time you are in London, be sure to stop in Savile Row.
AQUARIUS
Aquarius rules the ankles and shins, and your perfect fashion accessories would be socks and other legwear. Show your true eccentric self by wearing textured, colorful tights. Men can break a strict dress code at work by donning quirky socks with whimsical prints.
PISCES
Pisces rules the feet and your love for shoes would rival legendary shoe-fiend Imelda Marcos. Fish may not have feet, but you would never know that by looking in your closet. Splash out on fancy foot coverings to convey your imaginative, artistic nature.