From August 31, 2015 thru September 6, 2015
Starting Monday, have some fun already! You've been entirely too serious lately, and it's time to give into goofiness. Not only will you feel better, you'll look better, too -- and don't think other people won't notice. Need a date? Now's the time to ask. As the week wears on, your brain will be working overtime, tossing random thoughts around like clingy clothes on tumble dry. Expect some good insights (even if your emotions aren't neatly pressed and folded in the process). Work with others to get what you want, but be careful not to preach, especially on Friday. People hate that, don't you know? This weekend you'll be hesitant, but go on and take a risk to get the ball rolling.
Get a clear perspective on your perplexing situation! The Egyptian Tarot comes to us from the time pharaohs walk as gods among the living. The left eye of Horus, an indestructible sky god, is associated with the Moon (lunar cycles) while the right eye is associated with the Sun. Together, they'll help you see deeply into your present and future.
Read More »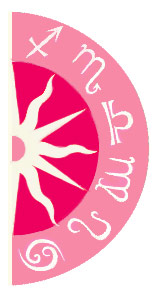 Discover what 2015 holds for you: