Astrology.com Launches Astrology Calendar For Your Phone

We all have a lot to keep track of—from Zoom meetings to virtual happy hours, it's easy for calendars to book up quickly! A little celestial insight can be more than helpful when selecting which days to actually plan out specific events. Let's be real, maybe you shouldn't set up drinks with an ex the day Mercury goes retrograde.
Astrology.com is excited to announce the first-ever astrological calendar made for your phone! From the astro-curious to the astro-obsessed, there's no need to manually enter the full moons, retrogrades, or new moons into your phone one by one. With our Astrology Calendar, we've done the heavy lifting for you—selecting relevant astrological dates that are sure to stir up the planets and cosmic energy at play. Once you subscribe to Astrology+, select Astrology Calendar, and then "Add to Your Calendar." You will be prompted to select a calendar app of your choice. The astrological transits and dates will automatically integrate into your phone!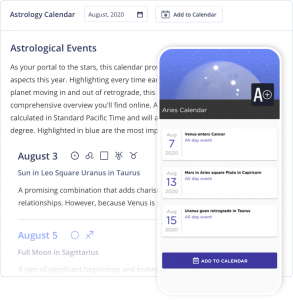 What are amazing upcoming dates for love? Take a look at all of the Venus highlights for the month and read the accompanying analysis. Planning a first date has never been easier, or more cosmically aligned! Ready to ask for a promotion? Read up more on Mercury, the planet of communication—what sign is it in, and where does that land in your birth chart? (Spoiler alert: Look for action in your tenth house of career!) Our Astrology Calendar brings ease and alignment.
Want even more specific, relevant insight? With Astrology+, the first-ever, astro-centric digital dashboard, you'll receive access to a personalized calendar based on your zodiac sign. Not only will you be privy to the cosmic energies in real time, but the calendar will dive deep on what it means for your individual sun sign. There's no need to wonder if Mercury retrograde will go easy or hard on you this time around—with the Astrology+ personalized calendar, we'll spell out the influence and impact for you!
For access to astrologers in real time, to learn more about Astrology+'s complete offering, and to subscribe to your personalized astrology calendar, sign up now. Go beyond what's simply in your horoscope, see what's happening in your birth chart!
Most Popular on
Astrology.com